Welser Profile is the leading manufacturer of bespoke profiles made of steel, stainless steel and non-ferrous metals.
The Welser Group provides the photovoltaics industry with items such as support posts, module carrier frames and longditudinal beams. These specially tailored profiles, profile tubes and kits have an extremely long working life and are optimallyconstructed to meet the static requirements placed on weight-bearing frames constructed for PV modules and solar collectors.
Furthermore, the expert advice provided also includes the choice of the right materials and crosssections for easily mounted custom solutions.
Welser Profile has a German subsidiary in Bönen, RP Technik GmbH Profilsysteme. The competence centre offers the benefits of expertise from experience accumulated in the integration of photovoltaic elements into steel façade systems.
Die Kernkompetenz der Unternehmensgruppe Welser Profile liegt in der Entwicklung sowie in der Veredelung von Spezialprofilen. Tagtäglich werden Profile in höchster Präzision und exakt nach Kundenwunsch gefertigt, etwa 120 Mio. lfm Profile/Jahr:
aus Stahl und Nichteisenmetallen
gelocht und ungelocht,
gerade und gebogen
lasergeschweißt und lasergeschnitten
mit engsten Toleranzen und erweiterten Funktionalitäten
Ob optimierte Trägerprofile, projektbezogene Mengen, große Spannweiten trotz hoher Lasten, geringer Konstruktions-, Produktions- und Montageaufwand, hochwertige Materialien oder eine Kombination von allem – wir fertigen gemäß Ihren Anforderungen Unterkonstruktionen aller Art (Freiland, dachparallel oder dachintegriert, Fassade (BIPV), CPV und CSP)!
Fakten
Unternehmensgründung: 1664
Anzahl Mitarbeiter: ca. 1800
Exportanteil: >75%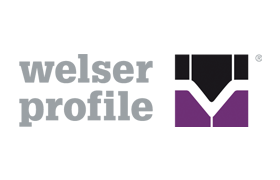 Ing. Albert Knotz, MBA
Prochenberg 24
3341 Ybbsitz
Austria